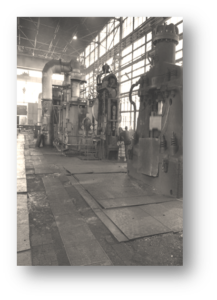 Kuźnia Ostrów Wielkopolski Sp. z o.o. continues the long-standing tradition of railway industry companies operating in our region.
The very first one – Fabryka Wagon – was estabilished in 1920 as a joint-stock company. The main area of company's activity was production of rail vehicles and related acessories. After the II World War, in 1952 the company was revived under the name ZNTK Ostrów Wielkopolski (Zakłady Naprawcze Taboru Kolejowego) soon becoming the largest enterprise of this industry in Poland.
1964, due to a high demand for forged components needed for construction and repair of rolling stock, ZNTK decided to estabilish the new department – Forge.
In 1999, the company returned to its historical name, Fabryka Wagon S.A. As a result of ownership transformations in 2001, the forge department started its own activity.
In 2006, new company adopted the name Kuźnia Ostrów Wielkopolski Sp. z o.o.. 
In 2017, Kuźnia Ostrów Wielkopolski Sp. z o.o. joined the capital group MSV Metal Studenka a.s. – European leader in components and forgings for the railway industry, starting the latest chapter in its longtime and colorful history.